PARVOVIRUS - A DEADLY DOG DISEASE
Posted by Dr Kristen Frederickson BVSc on 3 February 2020
WHAT IS PARVO?
Parvovirus is a potentially deadly virus that affects the gastrointestinal tract of dogs. The virus attaches to the lining of the intestine, causing it to shed. Parvovirus also lowers the white blood cells of the affected animal increasing the risk of developing secondary bacterial infections.
HOW IS IT TRANSMITTED?
Parvovirus is HIGHLY CONTAGIOUS. Affected dogs shed the virus into the environment; therefore unvaccinated animals can pick up the infection from contact with affected animals or places where affected animals have been. Additionally, people walking in affected areas can then walk the virus into their own yard. Note: vaccination does not provide 100% protection against parvo. Although vaccinated animals unlucky enough to obtain the virus often have a less severe course of the disease compared to an unvaccinated dog.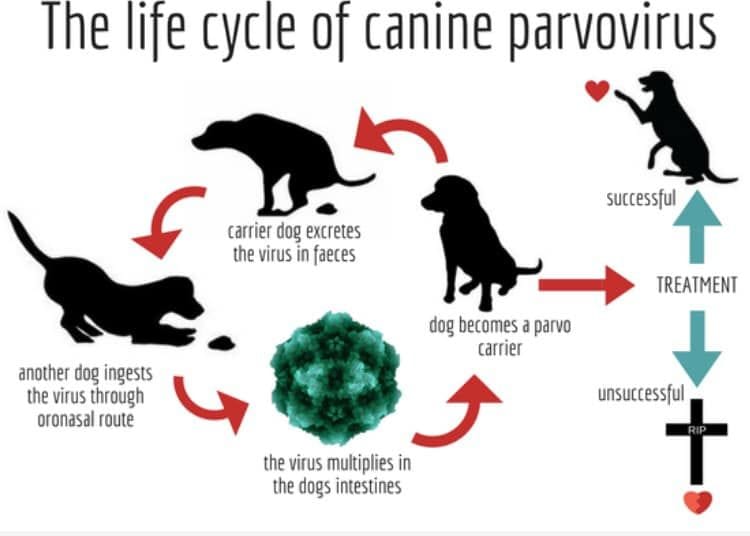 CLINICAL SIGNS
Animals with parvo initially present as lethargic and off their food. This progresses rapidly to vomiting and diarrhoea +/- blood.
Continuous vomiting and diarrhoea can cause rapid dehydration of affected animals. It is this dehydration which is the most common cause of death in affected patients.
DIAGNOSIS
A test exists to positively identify parvovirus infection. This test is not 100% accurate as it will only give a positive result if the animal is actively shedding the virus at the time of the test. Therefore, a positive test result is positive, whereas a negative test result does not rule out Parvo. Diagnosis is often made on history and clinical signs.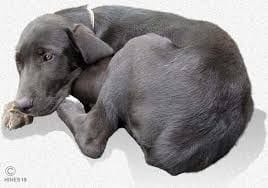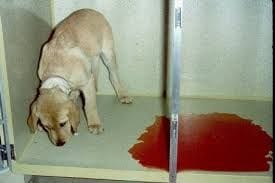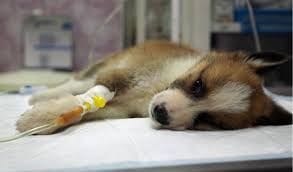 TREATMENT
All treatment is supportive against the signs of parvo; we cannot kill the virus itself. Generally we recommend in hospital treatment for parvo - The animal is admitted to hospital for Intravenous fluids to maintain hydration, antibiotics to protect against secondary bacterial infections in the intestines and anti-emetics to stop vomiting. If treatment is not affordable or the animal is suffering, euthanasia may be the best option.
ENVIRONMENT
Bleach kills the virus. It is recommended to bleach all areas, bedding and toys which have had contact with the affected animal. However studies shown that the virus will remain in the environment for years.
Ensure all waste, including urine and diarrhoea is disposed of responsibly as to not put naïve animals at risk. Waste should not be sent to the local dump. Burning is appropriate. Avoid burial, as rain will leach the virus out of the soil.
VACCINATION
Puppies need 3 vaccinations to build up immunity to the parvo virus. They need to be vaccinated at 6 weeks of age, again at 10 weeks of age and then at 16 weeks of age. During this time and for 2 weeks after the 3rd vaccination they remain vulnerable to the virus. If you have had parvo in your yard before, it is advisable to keep the puppy in a sterile environment maybe the laundry or verandah where you can bleach the area. Keep flies off their food and remove any uneaten food, don't let your puppy lick your shoes in case you have walked in parvo contaminated soils. 2 weeks after the 3rd vaccination you will be able to take your puppy out in public areas for walks. A 12 monthly booster shot is required to keep your dog safe from the virus for life. If your dog has contracted the virus, every dog in a household affected by parvo should be vaccinated immediately if not already covered. The affected animal can be vaccinated 1 week after clinical signs disappear.
If you are getting a new puppy and are unsure of the vaccination schedule please contact Knox Veterinary for advice.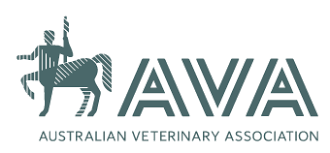 Author:
Dr Kristen Frederickson BVSc
About: Dr Kristen Fredericksen graduated from Charles Sturt University in Wagga Wagga in 2017. Kristen joined Knox Veterinary in May 2019 and is now an integral part of the team. She hails from Orange in New South Wales and has a background in primary production with both commercial and stud cattle and merino sheep. Kristen especially enjoys small animal surgery and is looking forward to becoming a fully qualified equine dentition in 2020.